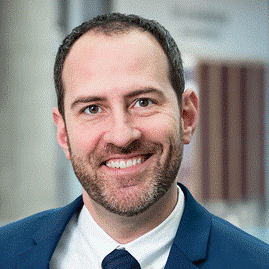 Talent Citizen is pleased to announce that Andrew "Andy" Jackson will join Washington & Jefferson College as Associate Vice President for Development effective November 17, 2021. As AVP, Andy will lead the College's principal, major, corporate, and foundation fundraising efforts, setting strategy and direction for a team of fundraisers. Andy will work in partnership with Vice President for Development and Alumni Engagement Dr. Carolyn Campbell to identify and set advancement strategies in support of W&J's academic mission and transformative strategic priorities of the College.
Andy previously served as Director of Development at Carnegie Mellon University (CMU) Tepper School of Business, where he was responsible for the strategy and execution for individual giving across the entire Tepper Advancement Office, one of CMU's highest revenue-producing units. During his tenure at Tepper, the school had its highest single fundraising year, successfully completed a comprehensive $201 million capital campaign, opened the school's new building, and executed the largest alumni reunion event in the school's history. Andy built and led a team of major gift fundraisers and worked closely with alumni engagement and annual giving to collectively expand fundraising totals, corporate connections, and alumni involvement and enthusiasm amongst the Tepper community.
With more than 18 years of service to CMU, Andy has had a profound impact on the university through funds raised over time. He cultivates strong cross-institutional relationships and works collaboratively to identify opportunities of mutual benefit to the university and its alumni and friends. Andy is a graduate of Carnegie Mellon University with a Bachelor of Science in Economics. He also earned a Master of Science in Sport Management from Slippery Rock University. Andy's lifelong commitment to higher education and deep roots in the Pittsburgh region make him an ideal addition to Washington & Jefferson College, an institution with a historical local impact and limitless future.
Talent Citizen President Tracy Welsh led this search with Senior Associate Rachel K. Partin.